Air Pear
Our most popular fans are designed to be installed as a distributed network of devices to continuously provide airflow across large spaces that suffer from stratification.
4 sizes for various building heights
Quick and easy installation in new construction or retrofits.
Patented multi-vane stator and venturi nozzle
The Air Pear can also be used in spot cooling applications in summer.
Safety in Mind
Every Air Pear fan is supplied with a steel safety leash pre-installed.
Made in the U.S.A.
We engineer, tool, mold and assemble all fan products in our 165,000 sq. ft. facilities in Longmont, Colorado.
5VA Flame Resistance Rating
Airius is the only small destratification fan manufacturer to meet the highest flame retardant rating defined by UL 94, 5VA.
WHAT IS AIR STRATIFICATION?
Air stratification, also called thermal stratification, is a vertical air temperature gradient inside a building. Warm air sits at the ceiling and cooler air at the floor due to the difference in density. Air stratification can cause high energy bills, occupant discomfort, and overdrive your existing HVAC system.
HOW DO DESTRATIFICATION FANS SAVE ENERGY?
Destratification fans mix stratified air in the room to balance overall temperatures. By doing this, you do not have to overwork your HVAC equipment to heat and cool because destratification fans provide in-room mixing, allowing for reduced energy usage and increased comfort.
HOW DO DESTRATIFICATION FANS WORK?
Destratification fans work by continuously circulating a column of air from the ceiling to floor, mixing the stratified air to create a comfortable environment for your business. These fans help to balance the temperature of the air so you don't have to overheat or over cool to maintain comfort.
WHAT IS A DESTRATIFICATION FAN?
Destratification fans are ceiling mounted fans used to reduce air temperature gradients commonly found in tall indoor spaces. Typically, multiple destratification fans work together to generate air flow from the ceiling to floor to provide full room air mixing in larger spaces.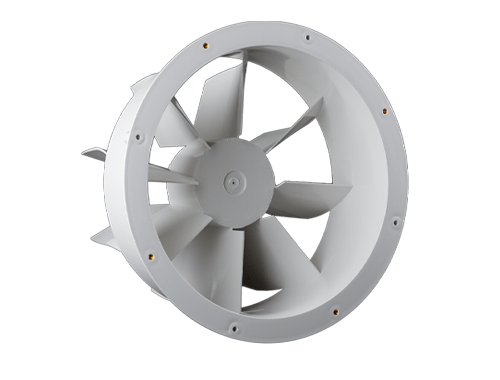 Patented multi-vane stator and Venturi nozzle
Old style ceiling fans or a simple tube design generally will not offer adequate throw for destratification. Airius Air Pear Fans feature a unique nozzle design and patented stator system to ensure that a column of air is delivered from ceiling to floor — where we live and work. With any axial fan, there exists a radial component to the air flow causing it to spread laterally and lose velocity when leaving the nozzle. Airius' patented fixed blade stator sits below the fan to transfer this rotational energy into linear motion exiting the nozzle. Having the airflow energy in line with the fan axis promotes a tight air column and maximizes the throw. In addition to the stator, the slightly tapered nozzle increases the exit speed and allows for the air throw to be maximized even further. If you are looking for Thermal destratification, Airius is the name.
Quick and easy installation
Complete with a 6-foot cord and plug for 120V fans, installing an Air Pear fan is quick and easy. Mount an electrical j-box/receptacle near the intended fan location and use one of the recommended mounting methods to hang the fan from the supplied eyebolt. Additional low voltage wiring may need to be installed for control of an EC motor or eliminated with a wireless control option.
6 ft. steel leash and anchor point for safety
Every Air Pear fan is supplied with a steel safety leash pre-installed. The safety leash acts as an additional restraint in the case of catastrophic failure of the main attachment point. Airius is the only small destratification fan manufacturer with this safety feature.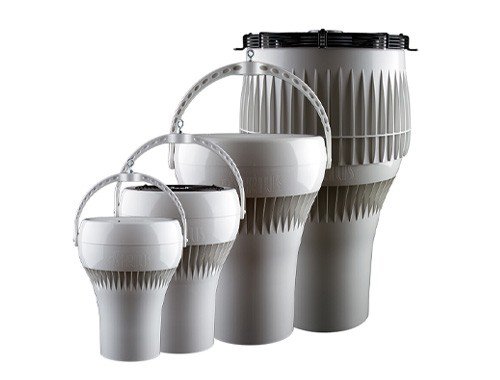 4 Sizes
Air Pear fans are available in 4 different housing sizes to accommodate throw distances for ceilings up to 100 feet tall. By offering several sizes with various motor and control options, we have a fan system to suit the needs of any building. AC motors, EC motors, wired controls, wireless controls, BACnet/IP integration, or chemical resistant housing options all allow us to tailor a fan system to your needs.
Give us a call today
to
connect with an Airius design specialist
to assist with your project.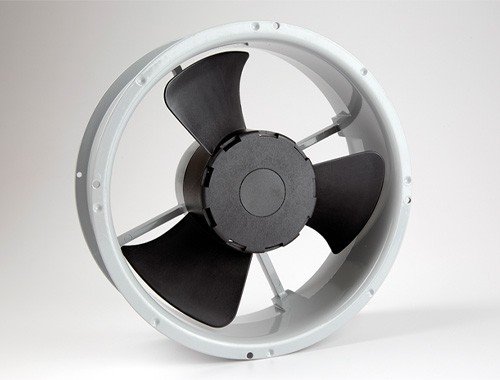 Standard AC motors and controls
Our standard AC motors are a great option to keep things simple. Controls for these types of motors are installed in-line with the power circuit feeding the fans. Several control types are available, from simple wall mounted controls to our Smart TRIAC that can adjust speed using: dip switches for fixed speed, 2-20mah current, 0-10VDC, or high and low temperature sensors that adjust fan speed based on the temperature difference. Please see the following information sheets for specific details.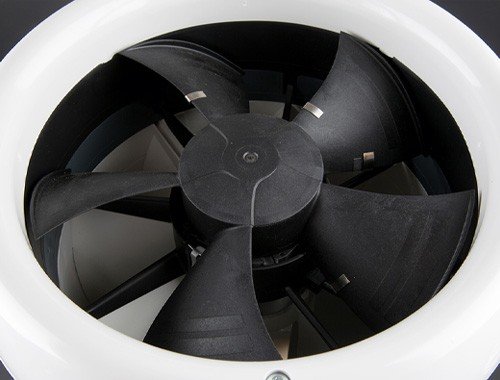 Premium EC motors and controls
Our premium EC motors, made by ebm-papst®, are a great option for maximum efficiency and controllability. EC fans maintain higher efficiency across the entire speed range when compared to traditional AC motors. Controllability of EC fans can be through a direct 0-10VDC wired connection, using our Pearlink Wi-Fi based app, or integrated into an existing automation system over BACnet/IP.
Intake Grille
All fans using the 45 sized housing and larger come standard with an intake grille. For smaller models, the intake grille is optional. We recommend the grille option for fans that are mounted within reach of an occupant. If mounted out of reach, we suggest leaving the intake open to maximize airflow and to keep the noise level low. Specific fan model submittals will show the guard as an option if available.
Colors
Air Pear fans are available in three standard colors: Off white (Cool gray 2C), gray (gray 432C) or black. Custom colors will be considered for large bulk purchases.
Contact Airius
for further details. If you need small quantities of fans with custom colors, look at our
Designer Series fans.
Chemical Resistant Housing
Machine shops, natatoriums, and other facilities with harsh environments are recommended to use the chemical resistant housing upgrade. If you have a question or concern about chemicals or the environment for your Airius fan installation,
please give us a call
.
Standard and Short nozzles
Designers often find themselves balancing many constraints when designing a project. For projects with tight physical constraints we offer a short nozzle option. The compact size of the short nozzle allows the fans to be tucked into many areas that a traditional fan would simply not work.
WARRANTY AND REFURBISHMENT
Full warranty details can be found under the technical downloads section.
3 Year Warranty
All Parts and Components
Money-Back Guarantee
Up to 30 Days. No Questions Asked
Refurbishment Program
Motor Replacement program after warranty ends.