Airius PureAir Series
People spend 90% of their time indoors where the air can be potentially harmful. 
Many people don't realize how poor the air quality is indoors.  Indoor air can be full of particles, pathogens, bacteria, molds, and odors that are trapped by the building and circulated throughout the facility.
Who wants to be breathing air like that?
Airius PureAir fans work continuously to mitigate these harmful elements so you can be assured that your indoor air is clean and healthy.
Studies have proven the ability of PureAir's NPBI technology to reduce infectivity of certain viruses by 90% or more.*
Needlepoint Bipolar Ionization (NPBI™)
Airius PureAir fans defeat pathogens, bacteria, molds, and even odors using patented Needle Point Bipolar Ionization (NPBI™) which constantly cleans the air of unwanted organisms and odors.
Ionized air has been proven to make organisms inactive and remove odors by putting an electrical charge to the air molecules.  These charged air molecules will bind to organisms and disrupt the pathogens' surface proteins, rendering them inactive and unable to replicate leaving only clean air for you to breathe.
And ionized air can eliminate odors too by breaking down chemical, pet, cooking, and other odors into basic harmless compounds, leaving indoor air smelling fresh and substantially reducing odor-causing Volatile Organic Compounds (VOCs).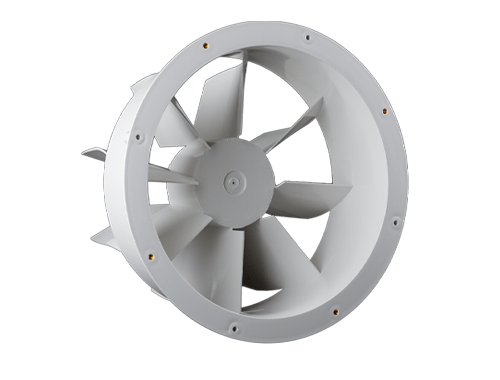 Patented multi-vane stator and Venturi nozzle
Old style ceiling fans or a simple tube design generally will not offer adequate throw for destratification. Airius PureAir fans feature a unique nozzle design and patented stator system to ensure that a column of air is delivered from ceiling to floor — where we live and work. With any axial fan, there exists a radial component to the air flow causing it to spread laterally and lose velocity when leaving the nozzle. Airius' patented fixed blade stator sits below the fan to transfer this rotational energy into linear motion exiting the nozzle. Having the airflow energy in line with the fan axis promotes a tight air column and maximizes the throw. In addition to the stator, the slightly tapered nozzle increases the exit speed and allows for the air throw to be maximized even further.
Quick and easy installation
Complete with a 6-foot cord and plug for 120V fans, installing a PureAir fan is quick and easy. Mount an electrical j-box/receptacle near the intended fan location and use one of the recommended mounting methods to hang the fan from the supplied eyebolt. Additional low voltage wiring may need to be installed for control of an EC motor or eliminated with a wireless control option.
6 ft. steel leash and anchor point for safety
Every PureAir fan is supplied with a steel safety leash pre-installed. The safety leash acts as an additional restraint in the case of catastrophic failure of the main attachment point. Airius is the only small destratification fan manufacturer with this safety feature.
2 Styles
The Airius PureAir Series is available in two styles: a free hanging fan for open ceiling installations and an acoustic ceiling tile version for dropped ceiling installations.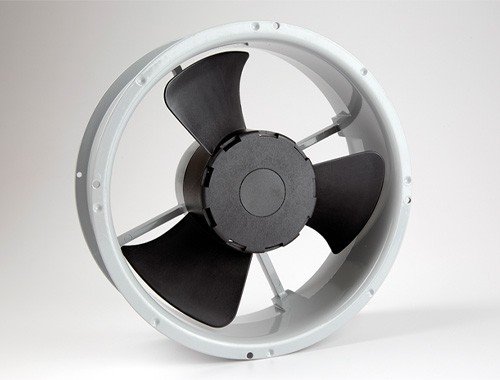 Standard AC motors
Our standard AC motors are a great option to keep things simple. We recommend installing the PureAir Series without any controls. Speed controls for AC motors can interfere with the NPBI operation.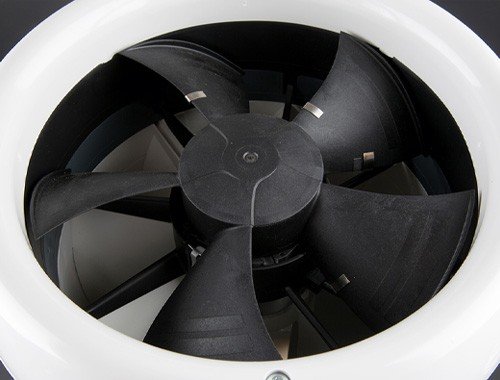 Premium EC motors
Our premium EC motors, made by ebm-papst®, are a great option for maximum efficiency.
Intake Grille
We recommend the grille option for fans that are mounted within reach of an occupant. If mounted out of reach, we suggest leaving the intake open to maximize airflow and to keep the noise level low. Specific fan model submittals will show the guard as an option if available.
Colors
PureAir fans are available in three standard colors: Off white (Cool gray 2C), gray (gray 432C) or black. Custom colors will be considered for large bulk purchases. Contact Airius for further details.
WARRANTY AND REFURBISHMENT
Full warranty details can be found under the technical downloads section.
3+1 Warranty
3-year warranty on fan
1-year warranty on NPBI module
Money-Back Guarantee
Up to 30 Days
Refurbishment Program
Motor Replacement program after warranty ends.
*DISCLAIMER: Airius partners with Global Plasma Solutions to use their NPBI technology.  Global Plasma Solutions (GPS) uses multiple data points to formulate performance validation statements. GPS technology is used in a wide range of applications across diverse environmental conditions. Since locations will vary, clients should evaluate their individual application and environmental conditions when making an assessment regarding the technology's potential benefits.
The use of this technology is not intended to take the place of reasonable precautions to prevent the transmission of pathogens. It is important to comply with all applicable public health laws and guidelines issued by federal, state, and local governments and health authorities as well as official guidance published by the Centers for Disease Control and Prevention (CDC) (https://www.cdc.gov/coronavirus/2019-ncov/prevent-getting-sick/prevention.html), including but not limited to social distancing, hand hygiene, cough etiquette, and the use of face masks.