Destrat Savings Calculator
Air Pear Series
The original and most popular Airius destratification fan features our patented nozzle and stator to deliver maximum throw. Several capacities available for spaces 8 ft and up to 100 ft tall. The lightweight and compact size of the
Air Pear fans
allow them to be easily coordinated with lighting, ductwork or signage where other fans do not fit.
What is Stratification?
Thermal stratification is a natural occurrence: hot air rises and cold air sinks. Your building's HVAC systems are engineered to maintain a comfortable temperature on the floor and often overheat or overcool to compensate for stratification!
Airius Destratification Fans continuously and gently mix the air, balancing temperatures (destratification) from ceiling to floor and wall to wall which helps the HVAC system maintain the desired temperature. No longer will you overheat or overcool a space. Comfort goes up, HVAC energy costs go down. We have several models and styles available including fans for dropped ceilings:
Destratification with Airius Fans
Reduce energy costs: Heating bill reductions of 20-70% are not uncommon after an Airius destratification fan installation, as the stratified air near your ceiling is typically 0.5°F per vertical foot warmer than at the floor
Next-generation controls: Airius Destratification Fan control options range from simple wall controls, wireless Wi-Fi app-based control, to BACnet systems integrated with your building management system.
A model just right for you: With more than 450 SKUs, Airius' team can develop a custom system design with specific models and control types to suit your needs.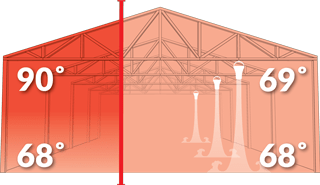 "First thing we noticed is that the heaters were finally shutting off and the temperature was staying comfortable without the feeling of being blasted with air. The second, and most impressive thing…. our utility bill dropped 25% even though the outside temperatures had significantly fallen!"
"The fans have performed wonderfully and the University has received many compliments on the improvement to the atmosphere in the facility during high volume events. Thanks to the help of Airius, and the great fans they produce, we now have a very usable venue."
"Due to the new lighting, roof insulation and Air Pears, our first energy bill at our main showroom was 75% less compared to the previous owner!!!"
You'll be able to select what types of emails you'd like to receive, including updates to submittals, notices of product launches, or new case studies.